Any small wine shop can tell you that it is often a difficult balancing act between stocking wines that we know our customers will like yet sometimes taking a risk and bringing in some wines from slightly more obscure regions or varieties. 
Good friend of mine, importer Neville Yates from Eurocentric Wine took a bit of a punt a little while ago and landed some wines from Slovenia after tasting some samples shipped over for him. When given the opportunity to taste these it would be fair to say I was intrigued, none of the varieties landed were unknown to me with the exception of smarnica, though finding out where they were from did require a little research on my part. To say I was pleasantly surprised though was a gross understatement, my first introduction to Slovenian wines was a very very good one. 
Varietal and beautifully packaged, these wines really did hit all the right notes and on a whim I began by ordering a case of Pinot Blanc to see how it would go, quickly adding a Pinot, a white blend, yellow muscat and two newly arrived 1000ml bottled wines under a different label. These are fun wines, playful in their presentation yet showing some seriously good winemaking. Definitely worth taking a little trip to Slovenia when you're next in the hunt for something a little bit left of field. 
Cheers, 
Scott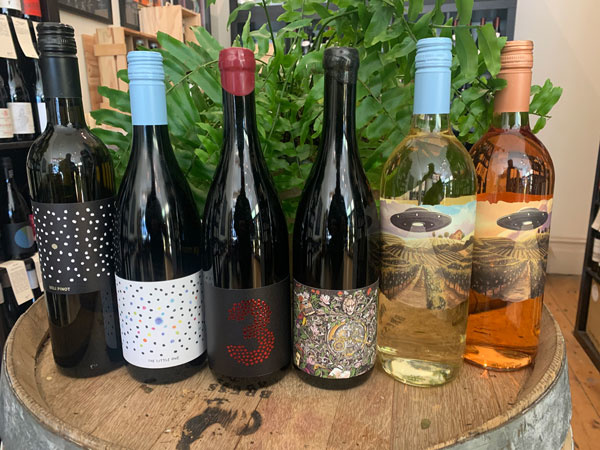 The Wines
Beli Pinot 2018
Organic. Fruit driven with hints of crunchy green apple, pear and quince. Medium body, soft acidity and a rounded palate.
The Little One 2019
Organic. Fruit driven, playful blend of Pinot Blanc, Kerner and Yellow Muscat. Mineral and precice acidity combined with a lovely textural, tropical element. There is so much to love about this wine, so much joy. 
3 Pinot Noir 2017
Organic. Sour cherry, red berry and spice. A little plusher than other European pinot noir, the generosity of the red fruits and spice balanced out with pitch perfect acidity. A little charry oak to finish. Bloody tasty.
Time 2017
Organic. Weird, Wacky and intriguing enough to have you going back over and over. Merlot, aged in old bourbon barrels. Think plenty of lovely, plummy fruit with some sweet spice, dukka and toasted oak. Matched this with a few Ottolenghi dishes and it looked great, then again with a tagine, same result. 
Canvas White 2019
Organic. Pet-Nat. 100% Pinot Blanc. 100% delicious. Acaia and citrus aromas, citrus and hints at tropical fruits on the palate. Soft fine bead, pretty crunchy acitidy balanced by some yeasty notes. Pours a little cloudy but pretty exciting drinking.
Grape Abduction White Blend 2019
Organic. A bright refreshing blend of pinot blanc and yellow muscat. Citrus, lycee and peach. Fruit is supported with fine boned minerality giving it drive. 1000ml is perfect for when one bottle is just not enough. 
Grape Abduction Rose 
Organic. Blend of Žametna črnina (don't ask me to pronounce that). Wild strawberries, cream and mineral. There is some lovely fruit sweetness here but a bone dry finish on it. Bring on spring.